Faculty Spotlight - Dr. Sung Joon Kim
May 28, 2019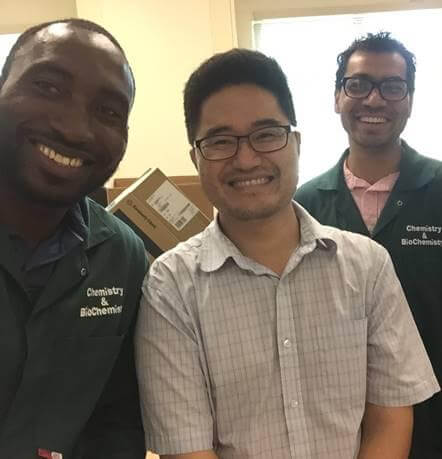 Dr. Kim joined the Department of Chemistry at Howard University in Fall 2018.  By joining the department, he brings his expertise in solid-state nuclear magnetic resonance (SSNMR) and biophysics.  Previously, he served as an assistant professor at Baylor University as well as a postdoctoral and research associate at Washington University in St. Louis. He earned his B.Sc. in Physics from Calvin College, his M.S. in Physics and Biophysics from the University of Toledo, and his Ph.D. in Molecular Biophysics from Washington University in St. Louis. During his PhD under Dr. Jacob Schaefer, his research employed SSNMR to characterize the structure and composition of the bacteria cell and the mode of action of glycopeptide antibiotics. His work in uncovering the mode of action of the compound Oritavancin contributed to the compound receiving FDA approval. Despite receiving multiple offers for his postdoctoral studies, a strong investment in this project convinced Dr. Kim to remain in the Schaefer Lab and continue his work in bacterial cell wall characterization. 
At Howard, Dr. Kim has five ongoing projects, one of which is employing the unique approach of solid-state NMR and liquid chromatography-mass spectrometry to study the bacterial cell wall. He seeks to fundamentally understand how bacteria modify peptidoglycan, a primary component of their cell wall, to become more antibiotic resistant, pathogenic, and elusive of innate human response to infection. His lab currently focuses on the cell walls of bacteria such as Staphylococcus aureus and Mycobacterium tuberculosis. Ultimately, he says, these findings will be used to develop new, more effective drugs.
Underlying Dr. Kim's interest in academia is the belief that teaching and research go hand in hand. "As scientists, it is a part of our responsibility not just to do research but to ensure the next generation picks up where we left off," he states. Dr. Kim is eager to use his roles as a professor and principal investigator to not only encourage students to push forth the scientific envelope but also to equip them with the skills and knowledge needed to be successful in their future pursuits.
Dr. Kim noted that he was specifically drawn to Howard due to the core values instilled in HBCUs. Stressing that one should not only pursue a career but also seek to positively impact society, he said, "One of the things that is really attractive about Howard is the people I teach and the people I work with have a greater potential to bring about changes in the world." 
For more information about Prof. Kim and his research, please visit his website.
Story written by Jaquesta Adams (Chemistry Major, Class of 2020, Howard University).
Categories
Research