American Chemical Society Visits Campus (1/31/20)
January 27, 2020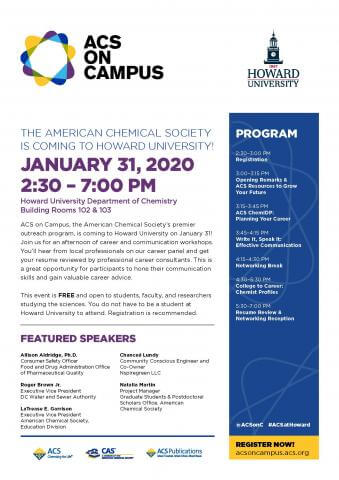 The American Chemical Society will visit the Department of Chemistry at Howard University on January 31, 2020.  The afternoon will be filled with speakers that will focus on careers and communication in the larger scientific field.  The even is FREE and open to students, faculty, and researchers across the scientific enterprise.  Those interested can register for the event at acsoncampus.acs.org. Registration for the event is recommended.  
For more information, please see the flyer or contact the Department of Chemistry.
What: American Chemical Society
When: January 31, 2020
Time: 2:30 PM - 7:30 PM
Where: Howard University Department of Chemistry, Chemistry Building Rooms 102 & 103.
Categories
Research and Scholarship